Cuddles Page

Thank you so much for visiting the 'Cuddles' web page. We are a volunteer, non-profit organisation formed in 1999 here in the UK. We attempt to support the families dealing with the loss of their baby through miscarriage or stillbirth. Since Cuddles began, we have supplied Cuddles items to 89 hospitals. We continue to get a positive response from the hospitals, and have been encouraged this year by several of the units we supply who have been able to ask us for things that they find particularly useful. We are very conscious that we need to make best use of your time and generosity whilst being responsive to what the hospitals tell us is most needed. By far the greatest unfulfilled need, to which we can respond, is the call for Cuddles blankets and gowns. Since the beginning of 2003 this is the area on which we have concentrated, and we are now only able to accept Cuddles blankets, gowns and hooded wraps. We know that many supporters like the monthly drives, so we will keep those up, though you will notice the focus has altered slightly. The details of these drives and totals so far are on this page Cuddles Monthly Drives If we have any special requests from the hospitals we supply, we will put a notice on our club page.Cuddles Group on Yahoo
Baby Gowns....small premature to new-born.
These are sadly needed so Mums and Dads are able to have some clothing to dress their tiny stillborn babies. These little ones are very fragile and it is kinder to all concerned if the yarn is no thicker than 4ply, the backs are left open with a couple of ties to close them and also if the armholes are wide. We can any size from the tiniest premature up to newborn size. There are some patterns for these on the free pattern page and also on Bev's Country Cottage.
Blankets.
(Inspired by Ruth of Afghans for Angels) "Afghans for Angels"
Sadly we still lose babies. From the tiniest prematures to full term size. We would like to be able to have a blanket for each of these babies. Mums and Dads can nurse their little angel in their blanket in the precious little time they have together. The mums and dads are then given their baby's blanket as a memento of their little one to provide a little comfort in the painful months and years that lay ahead for them. Please bear in mind that the blankets are often for very small babies, and so thicker yarns will be unsuitable for the smaller sizes. Often a Cuddles blanket will be one of the few items that parents will have to keep to remind them of a much loved and longed-for child. Soft yarn and pale colours are best – strong colours can be attractive for healthy babies but not really appropriate in the circumstances where Cuddles blankets are needed. "Pale and Pretty is Perfect" A good guideline would be: nothing thicker that 4ply for blankets under 20" and gowns. Nothing thicker than DK for the larger blankets. Pale blue, turquoise, pink, white, cream and pale lemon are all fine. Some people like to add ribbon roses or little bows to decorate the gowns, that's fine, too – it all helps make the gift a little more personal. Any blanket from 15 inch size up to 36 inches would be gratefully received
We would also be grateful for any donations of wool/yarn in baby colours and UNUSED UK postage stamps or even donations of money to help buy materials.
Those very kind people who have sent items to us anonymously, we would like to take this opportunity to thank you.
'Cuddles' PO Box 93, Bodmin,
PL31 1WZ. UK.
Please note that our previous 'freepost' address is NO LONGER valid.
Any parcels sent to this address will not get to us. Thanks.
Thank you so much everyone at NETFYSH for their continued support.
Thank you so much and best wishes.
Jacky and Jill.
Jacky's email
Jill's email
View My Guestbook
Sign My Guestbook
Thank you so much everyone, we couldn't do it without you!
LINKS TO OTHER SITES THAT ARE HELPING MUMS, BABIES AND OTHERS IN NEED.
PLEASE TAKE A LOOK.

This page has been visited
times.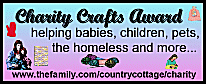 <!Begin Charityring HTML Fragment> <!End Charityring HTML Fragment>